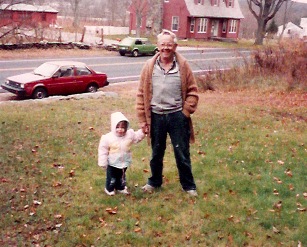 A year ago I took a graduate class about Augusto Boal's "Theatre of the Oppressed" technique. One evening we began with a simple acting exercise. We all walked about the classroom, filling the space, listening for further instructions from our professor. After a few in-between steps, she asked us to think of an ancestor and to picture them as clearly as we could. Then, we began moving as that person. Dropping our hips or lifting our heads as they would have, even saying 'hello' to those we passed. When it was all over, we circled up for a debrief.
The reflections were warm, and sad: disappointment at incomplete memories; aching for reconnection with family members past; joy at an opportunity for recollection. My reaction was joy. Enjoyment, truly, because when asked to picture an ancestor, I immediately thought of my grandfather. Well, I first thought of Meema, my maternal grandmother, but was overwhelmed by the task of stepping into her shoes. They're too iconic for me to inhabit, her spirit too dear and immense. But Grandpa? I have such memories of Grandpa! His characteristic irreverence makes him somehow more accessible than his wife.
Grandpa was my James Dean. I remember him short, strong and handsome, with a picturesque swoop of white hair. He was perpetually quotable, perpetually moving, and perpetually gruff. He carried a white, canvas sack that always contained Juicy Fruit gum, several decks of cards, York Peppermint Paddies, and, until his final years, cigarettes and matches. [Juicy Fruit Gum and Yorks will forever be my nostalgic treats.] He bragged about his family to anyone who would listen---we were his greatest accomplishments. He loved his wife more dearly than I think he ever knew how to communicate, even to her.
What joy to have an excuse to reflect on an ancestor. A family member who I see in my mom's energy and enthusiasm, in her pride for her family and her kids. I see Grandpa in his youngest son, when he uses his hands to build and create, and who can do a mean impression of the man himself. I see him in my brother's determination and stubbornness and in my own value of hard work and good humor.
The people who go before us shape us. They shape our time and our perspectives, who we are.
This piece was republished with permission from Kimberly's personal blog Just Enough Foolishness.