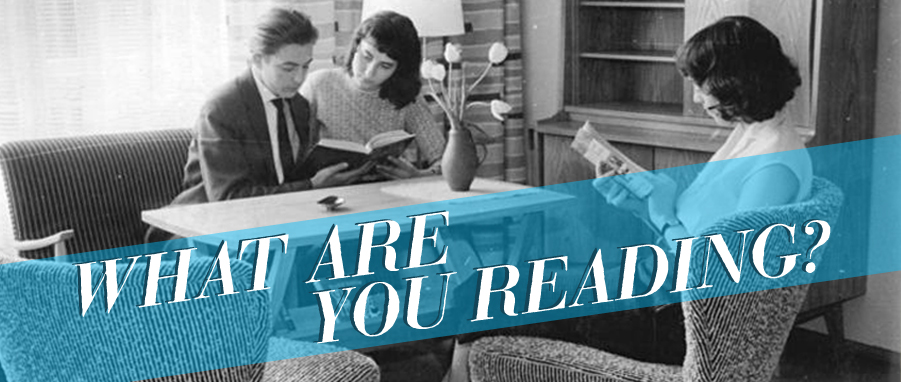 We love to hear what our friends are reading when they step away from the computer.  Drop us a line and let us know what's blowing your mind. Erin Loechner, Design for Mankind: I loooove reading offline - it's a ritual that I don't often get to indulge in. But when I do? I feel relaxed, invigorated and inspired all in one fell swoop. Right now I've been engrossed in an old copy of Elephant Magazine, a fantastic art publication. I've also got copies of Anthology, It's Nice That and Artichoke in regular rotation on my nightstand!
Joslyn Taylor, Simple Lovely: Blood, Bones & Butter by Garbrielle Hamilton I just finished Gabrielle Hamilton's brilliant account of her journey to becoming a chef and owning her own restaurant, and I can't get it out of my head. I'm love  a good food memoir (Ruth Reichl's books are among my favorites), and I think Hamilton's is one of the very best I've read. Her writing is lyrical, beautiful, honest. It is perfection.
Life by Keith Richards My husband and I never (ever) read the same thing, so I thought it would be fun to try it once so we could talk about books more often. We agonized over which book to kick things off with and ended up settled on Keith Richard's memoir Life, as it satisfies our mutual passion for music and our fascination with the rock and roll lifestyle (which we so do not live). I'm completely digging it so far.
Vogue Sometimes it takes me two months to get through a full issue, but I read every single article, religiously. It's just really smart...so much more than fashion. There's brilliant food and culture writing and excellent political interview. If I had to pick my dessert island reading material, it would be this.
Kathleen Shannon, Jeremy & Kathleen: A Guide to the Good Life: The Ancient Art of Stoic Joy by William B. Irvine I always had the idea that stoics were cold. Emotionally unavailable. Perhaps even a little asshole-ish. But reading this book has redefined what it is to be a stoic and has me as gung-ho for the philosophy of life as Fat, Sick and Nearly Dead had me on juicing. Though, I've yet to buy a juicer. Fortunately, no materials are required to practice being a stoic. Irvine takes a modern approach to sharing the history of stoicism (from back in the good ol' days), stoic psychological techniques (such as negative visualization - it's fascinating!), stoic advice on fame and money (a good kick in the pants for many of us blogging types), and finally ways to practically bring stoic way of living into our modern lives. If you're a fan of Leo Babauta's Zen Habits and Gretchen Rubin's The Happiness Project you might enjoy this book.
The Alchemist by Paulo Coelho This book was gifted to me from a dear friend years and years ago. I only finally recently read it while on a long flight so I could look intellectual and deep to my fellow passengers. I had no idea what kind of metaphysical trip I was in for. This book follows a boy's fantastic journey through Spain and the Egyptian deserts as he finds the meaning of life. It's the kind of story fit for a Disney cartoon circa 1964 that you have to properly view with a joint in hand. Then just this past weekend I overheard a hipster with a beard (in Brooklyn, go figure) talking to a girl about reading The Alchemist. So clearly it's impressive and cool. But it might also change your life. So there's that.
The Writings of Florence Scovel Shinn including: The Game of Life and Your Word is Your Wand by Florence Scovel Shinn I almost left this off the list because ol' Florence gets a little too Jesus-y in her writings for my "atheist" tendencies but all that God talk aside this book was kind of a game-changer for me. Florence Scovel Shinn was a metaphysical feminist in the 1930s and spouts off some really radical stuff about universal laws, being meticulous with your words and the whole concept that everything (good and bad) starts with a single thought. And all in the 1930s! Which makes the whole book that much more intriguing to me.