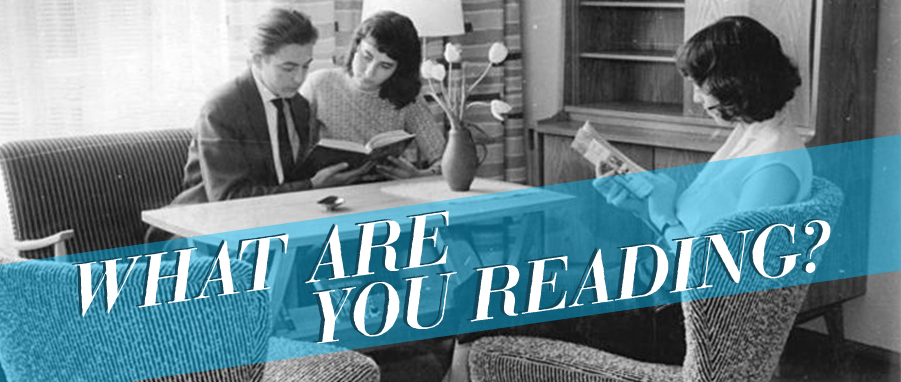 Today we're lucky enough to present the Pretty Mommy edition of our "What Are You Reading?" column. Our pal Michelle LeBlanc is the tastemaker behind the impeccably curated shop, Pretty Mommy---but we don't just love her for her good taste. Michelle isn't afraid to be honest that figuring out how to run a thriving business while raising two small children comes with daily challenges. We love that she's willing to share the parts behind all the pretty.  Here, she tells us what she's reading, and pulls in two of her friends to join in the conversation. Michelle LeBlanc, Pretty Mommy I have to wax a little nostalgic about summer reading . . . growing up in the hot climes of the southwest, I spent many a long morning combing the shelves at the local library, taking home stacks of reads . . . lounging in the cool a/c with classic movie star bios, some trashy romantic lit that I snuck in under my mother's nose, the latest Sweet Valley High installment, and a hippie beauty-at-home recipe book for concocting face masks out of oatmeal & honey, patchouli oils and rose water toners . . . then finally coming out of my cave at dusk to brave the heat and track down some ice cream . . . oh to have those lazy days!
With two littles underfoot, my reading time these days is pretty much limited to short snippets of magazine reading (Bon Appetit for wishful cooking & Entertainment Weekly for indulging my pop culture obsession), but one week every summer we escape with the in-laws to a cabin whereupon I let the relatives keep track of my kids and I dive into  something with just a touch more depth (but only a touch mind you, there's nothing so awful as a downer book in the middle of summer vacation, no?) So to that end, I just ordered Seating Arrangements by Maggie Shipstead . . . Amazon's description calls it "deceptively frothy" . . . sounds right up my alley!
[Editor's note: Hey look! One of our favorite people, Robyn Virball, recommended Seating Arrangements in the May 18 edition of What Are You Reading? The author happens to be Robyn's friend, which makes her a friend of ours.]
Jenna & Cary, Ace & Jig Some current favourites are The Glass Castle and Half Broke Horses, both by Jeannette Walls. We scrounged a third-hand (dog-chewed) copy of The Glass Castle off of a friend and since then Cary and I have both read it, and now the same copy is being devoured by the second of our interns! Some serious recycling going on. It's a fast-moving and fascinating read, and her no-nonsense literary style  really appeals to us as busy mamas (she cuts to the chase!). The story is a memoir of the author's life and her unbelievable family and the follow-up Half-Broke Horses  is a true life novel which relives the tale of her heroic grandmother. As you may guess, we are drawn to stories of strong women.
Cary also reports that she is currently reading Vaclav & Lena by Haley Tanner about the immigrant childhood in Brooklyn.
And last but not least . . . we are both so thrilled to have reached the stage where we can enjoy reading chapter books with our eldest. Cary and Alice are reading The Secret Garden by Frances Hodgson Burnett and James and I are reading The Lion, the Witch, and the Wardrobe.  It's so fun to revisit these favorites from our childhoods.
Jennifer Murphy, Jennifer Murphy Bears & dull Diamond I'm crazy for The Wind-Up Bird Chronicle by Haruki Murakami. The dreamlike quality of a life weaving in and out of real and unreal spaces takes me away in the summer . . . seems like the perfect daydream---charged with vivid plots and characters.