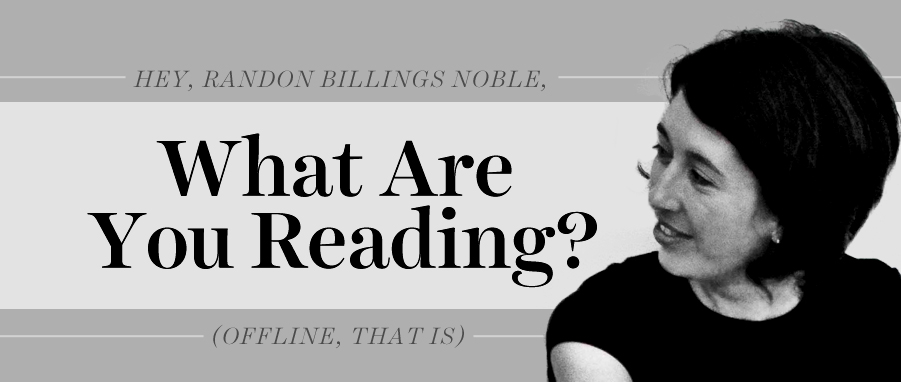 Randon Billings Noble is a creative nonfiction writer living in Washington, DC.  A graduate of NYU's MFA program and a former teacher of writing at American University, she currently writes the blog From the Hatchery while raising her 17-month-old twins.  Her essays have appeared in the Modern Love column of The New York Times, The Massachusetts Review, Passages North and elsewhere.  You can read more from her at fromthehatchery.com, randonbillingsnoble.com, and on Twitter (@randonnoble).  When I was halfway through my one and only pregnancy, I stopped reading.
Before this I had always read.  I don't remember a time when I couldn't read, and I was always a little jealous when I read about others learning to read – when C-A-T became "cat" and leapt off the page and into imagination.  According to my parents, when I was three years old we were driving by a billboard and I read "Rustoleum" right off it.  Rustoleum.  Impressive . . . but it doesn't exactly leap into imagination.
In high school I tore through the classics assigned by my English teachers as well as the Sweet Valley High series I discovered on my own.  In college I branched out into Women's Literature and Native American Literature and rooted back into Chaucer and the medievalists.  In graduate school I focused on Renaissance Drama until I defected from my English program into an MFA in Creative Writing.  There I read Proust, Bulgakov, Joan Didion, Andre Aciman . . .
I continued to read when I jumped the desk and became a teacher of writing instead of a student.  I read throughout my courtship with my husband and well into our marriage.  Then I got pregnant.  With twins.
The bigger I got the more immobile I became.  I was never on bed rest, but when your waist more than doubles in size and is heading towards the planetary, it's tough to move around – even inside your own house.  For a few weeks I mostly just sat in a chair in our living room and read, but then I started to become stupid.  I couldn't focus, even on the Sookie Stackhouse novels I was burning through on my Kindle.  Later I learned that your brain can shrink up to 8% during pregnancy.  Since I was carrying twins, I imagine my brain shrank 16%.
Finally they were born---each weighing well over seven pounds.  And for the next few months I was completely and happily consumed by them.  But then I started to miss reading.
When the weather got warmer, I began to take the twins out for walks in their fancy double-decker stroller.  One of our first outings was to the library.  Right by the front counter was a shelf of new releases whose breadth of subject matter made me almost giddy---a mystery set at Pride and Prejudice's Pemberly, the latest installment in the Game of Thrones series, novels about werewolves (one starring Henry VIII no less), a collection of Alexander McQueen's fashions, a thick volume of illustrated anatomy, a group biography of former North Koreans, a bunch of vegetarian cookbooks, The History of the World in 100 Objects.
I checked out three books that day and read them in less than a week.  My brain swelled like the Grinch's heart bursting out of its magnifying frame.  I was myself again.  I was reading.
Here are some of my favorite finds: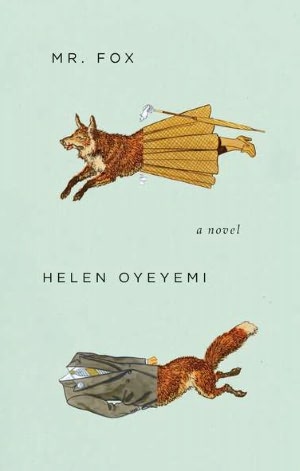 Mr. Fox by Helen Oyeyemi St. John Fox, a writer, has gotten into the habit of killing off his heroines.  Mary Foxe, his made-up muse, objects.  She challenges him to join her in a series of stories where she, too, has a hand in their creation, and nine divergent fairy tales are the result.  The relationship between the writer and his creation grows more complicated, however, when Mr. Fox's wife Daphne becomes convinced that he is having an affair and breaks into their narrative.  Will Mr. Fox have to choose between his fantasy muse and his flesh-and-blood wife?  Or will yet another story write itself?
One tale begins:
There was a Yourba woman and there was an English-man, and …

That might sound like the beginning of a joke, but those two were seriously in love.

They tried their best with each other, but it just wasn't any good.  I don't know if you know what a Yourba woman can be like sometimes.  Any house they lived in burnt down.  They   fought; their weapons were cakes of soap, suitcases, fists, and hardback encyclopedias.  There were injuries …

One day the woman stamped her foot and wished her man dead.  He died.  (And now you know what a Yourba woman can be like sometimes.)

She had a devil of a time getting him back after that one.
The Silence of Our Friends by Mark Long and Jim Demonakos, illustrated by Nate Powell I was immediately struck by this graphic novel's cover.  I wanted to know what these two men were looking at, and with such different expressions.  In a way, they're both looking at the same thing: their hometown in Texas where in 1968 a civil rights protest turns deadly and five black college students are charged with murder.  Larry Thompson is the black activist who leads the protest.  Jack Long (a fictionalized version of the writer Mark Long's father) is the white reporter who crosses the color line to film it.  Jack invites Larry's family to his house on the white side of town and eventually testifies – for the accused students – at their trial.  Amid the hatred, violence, and misunderstanding in this story, there are also fishing trips, barbeques, rodeos, realizations, redemption and, ultimately, a sense of unity.
In this scene Larry's family is at Mark's house.  The kids are sent outside to play, conversation stumbles and an offer of drinks is refused.  But then Mark puts some music on …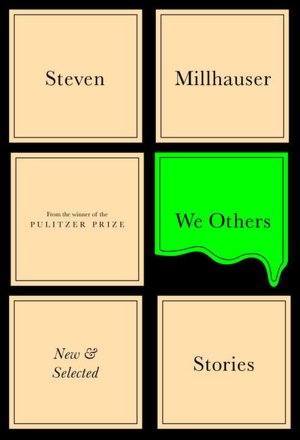 We Others: New and Selected Stories by Steven Millhauser This collection features stories about a mysterious figure who emerges in a commuter town to slap people – hard – before disappearing, about a boy infatuated with a girl whose one white glove hides an unbearable secret, about the creator of clockwork automatons who finds himself in competition with a mysterious rival, about a knife-thrower who marks the people who flock to see him, about a museum whose endless bewildering rooms call people to return again and again …
These stories claim to be about others, but we are more haunted by the way they reflect back on us.
The title story begins:
We others are not like you.  We are more prickly, more jittery, more restless, more reckless, more secretive, more desperate, more cowardly, more bold.  We live at the edges of ourselves, not in the middle places.  We leave that to you.  Did I say: more watchful?  That above all.  We watch you, we follow you, we spy on you, we obsess over you.  We crave your attention.  We hunger for a sign …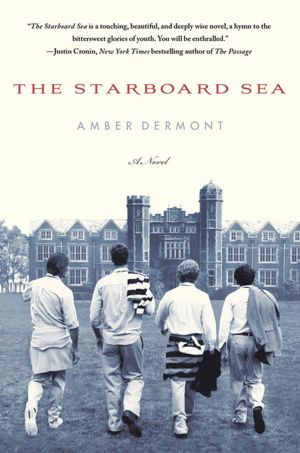 The Starboard Sea by Amber Dermont A sad tale of love and loss and the sea, but set at a New England prep school – not aboard the Pequod.  When his best friend and sailing partner commits suicide, Jason Prosper transfers to Bellingham Academy, a second-chance school for the privileged.  But even as he forms new relationships at his new school, he is haunted by his past and threatened by a secret he only slowly unravels.
One of the surprise pleasures of this book was the wordplay between friends.  Despite its rather dark plot, this microcosm of teenagers is full of intimacy, prankishness and wit.   I'll leave the revelation of the title line, the starboard sea, for you to discover as you read, but this passage gave me a whole new appreciation for the creative usage of SAT vocabulary:
Cal's mother, Caroline, had once made up a deck of vocabulary flashcards, encouraging us to quiz each other in preparation for the SAT.  Cal's favorite word was 'abrasive.'  He'd misuse it every chance he could, inserting it into sentences where it didn't belong.  'This ham and cheese sandwich is mighty abrasive.'  'That's some abrasive foot odor.'  'I'm going to get abrasive on this ancient history exam.'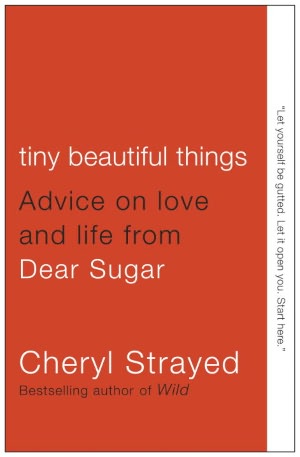 And the book I just picked up this week: Tiny Beautiful Things: Advice on Love and Life from Dear Sugar by Cheryl Strayed This book is a collection of Dear Sugar advice columns from the online magazine The Rumpus.  Someone commented on Twitter that she was reading it with a highlighter but should have been with a tattoo gun.   As I leafed through its pages I felt the same way.
Every page of this book feels quote-worthy, but I'll end with a piece of advice that Strayed, in her 40s, wrote to a woman in her 20s – something I wish I had read in that living room chair, trapped under the weight of 15 pounds of baby, feeling time slide away like a tide and wondering if I would ever get some fraction of my brain – my life – back.  Strayed writes:
The useless days will add up to something.  The shitty waitressing jobs.  The hours writing in your journal.  The long meandering walks.  The hours reading poetry and story collections and novels and dead people's diaries and wondering about sex and God and whether you should shave under your arms or not.  These things are your becoming.
I hope this reading will be part of yours.