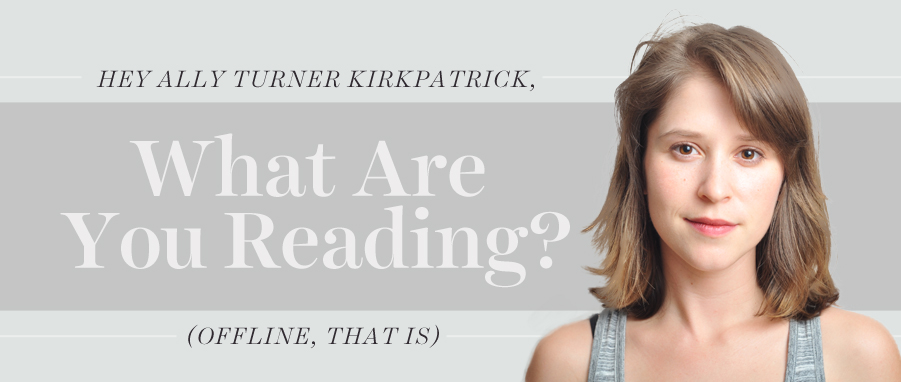 In March of this year, Ally moved from Brooklyn to Leesburg, Virginia. While in New York, she worked as a barista and in retail in order to support her writing and acting habits. She studied classical acting in Oxford, UK, at The British American Drama Academy and English Literature at American University in Washington, DC. Ally and her husband (who is a musician and writer) decided to leave city life on a whim---their lease was up and instead of renewing, they packed up their two cats and moved into her dad's old hunting cabin in the foothills of the Blue Ridge Mountains. When she's not pickling poisonous spiders or getting charged by groundhogs, she's a kitchen helper to food writer Cathy Barrow and recipe tester for the Washington Post. She blogs about cabin life at www.thegreencabinyear.com The big comfy armchair in my living room is upholstered in a hunter's dreamscape. Deer, geese, elk, and moose frolic across the fabric. There are pine trees and creeks and hunting dogs. This is my reading chair, my special spot reserved for reading only actual books. I say "actual" because I think of the printed word as a material thing in addition to its immaterial narrative. A book in the "actual" sense is a specific vessel as well as a world. Sure, I love e-books and laptops, but those mediums show you too much. They take you anywhere, everywhere. The actual book takes you to only one place, to one particular story.
You also get a whole different sense experience with an actual book. You feel the flex of a page heavy with a big glossy photograph. You notice how unlike in texture and weight the rigid cover is from the pulp flecked page. You can hear the spine crinkle and see the deepness of the black ink. Let's not forget the smell, of course…the must or dust or that of crisp fresh paper.
When learning something new, especially a physical skill like gardening or cooking, I find it particularly helpful to learn from an actual book. That's what this column is about for me – books that are teaching me new things. As I learn to garden, to cook, to read, I find that I enjoy the flipping back and forth through pages, running my finger up and down a block of text, and sandwiching in post-it notes and neon tabs to keep my place.
In short . . . Hooray for actual books!
Here is what I'm reading now:
New Book of Herbs by Jekka Mcvicar I've got a thing for Passion Surfing. Never heard of Passion Surfing? Well, that's because I just made it up. Passion Surfing is when you find someone who is really passionate about what they do and then you catch a smaller version of their wave and see where it takes you. Usually my Passion Surfs are fun for a few weeks, then glide to a halt on the shore of boredom. But not so with Jekka Mcvicar. Her wave of enthusiasm has inspired me for a really long time.
This book gives guidance in planning new garden beds, growing herbs from seeds and cuttings, and also has sections about uses for fresh herbs in the kitchen and the home. There are recipes and how-tos and manifestos for organic gardening practices. There are so many helpful tidbits of information---did you know that using a seeping irrigation system rather than a spray hose will cut down on the spread of weed seeds? Neither did I! My favorite part of the book, however, is the last section that details 100 of Jekka's favorite herbs. Jekka and I have been hanging ten so hard lately, I want to grow every one of them!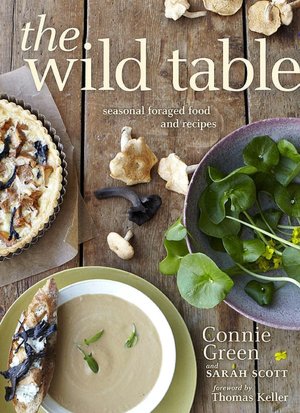 The Wild Table by Connie Green and Sarah Scott When I moved to western Virginia from Brooklyn I became obsessed with finding a particular type of mushroom called the morel. I imagined that finding this particularly delicious and wild delicacy would free me from the heartsick feeling I'd had since leaving New York. I missed my friends, my job, and the great theatres, cafes, and bookstores. I missed the feeling of "happening", of hopefulness, of my phone buzzing in my pocket as a pal called me up for a spontaneous after work cocktail. When I got to Virginia all I saw was the traffic and the big box stores and the laser-eyed looks directed at my tattoos. And my phone? My phone became a still and useless rectangle of regret.
Strangely enough, the morel did help me adjust. It became my beacon of hope. I didn't need anyone calling me if I was poking around in the woods searching for fungi. Soon I took a "grow-your-own wild mushrooms" class at a local organic farm and found a cool job through connections I made there. Eventually I even became more adventurous in the kitchen, which I also credit to my love of wild mushrooms---because if you spend a whole day searching for your food, you're certainly going to put in the effort to eat it well that night. I found myself appreciating the beauty of Virginia after all. Morel hunting truly helped me see the world in a different way. But wait . . . not that kind of different way, I'm not talking about those types of mushrooms.
The Wild Table is a beautiful book filled with tasty recipes, brilliant photographs, and useful, easy to read information about preserving the morning fetch.  You can use this book even if you have no desire to go tromping around in the woods; just swing by your local farmers market.  If you are in the mood for some fungi fulfillment there's a helpful "Wild Calendar" in the back that tells you when certain mushrooms and other natural treats are in season.
Living, Thinking, Looking by Siri Hustvedt This book is a collection of essays about a lot of stuff: desire, memory, sleep, literature, visual art. Oh yeah, and neuroscience. Can't forget the neuroscience. (Except I do forget the parts about neuroscience and then I have to go back and read them over and over again…)  These topics might make you wonder how this book is making an appearance here, among all these other books about things you can eat. Mushrooms, herbs… ideas? Exactly!
In my journey to become a better home cook I've hit a few roadblocks every so often. Learning new skills takes some endurance. This book helped me reinvest in my quest to become a skilled cook because of how Hustvedt thinks about memory. She writes:  "it is clear that memory is consolidated by emotion, that the fragments of the past we recall best are those colored by feeling …" Good meals can be bookmarks in the brain.
The example that comes to mind is from my recent weekend trip to New York. I can only vaguely describe the events of that weekend as a whole. But ask me about that delicious meal I shared with my dear friend at a nice restaurant in the East Village? I can give you a play-by-play of the whole experience, not just about what we ate. I vividly remember our conversation, the energy of the room, even details of the place down to the type of air freshener that was in the bathroom. (A lemongrass diffuser, in case you were wondering.)
My dinner that night was pleasure distilled into three courses and a bottle of sparkling wine.  It was certainly a "consolidating" emotion I felt that evening – an emotion I am slowly learning to create again and again for myself, for my family, and for my friends.
The food will be for our tummies; the pleasure of eating it will be for our minds.