Emily Matchar is the author of Homeward Bound: The New Cult of Domesticity (Simon & Schuster, May 2013), which explores our current mania for "new domesticity"---the knitting, the Etsy-ing, the backyard chicken-keeping, etc. etc. She writes about culture, work, food and women's issues for places like The Washington Post, Salon, Men's Journal, the BBC and others. She lives in Hong Kong and in Chapel Hill, North Carolina.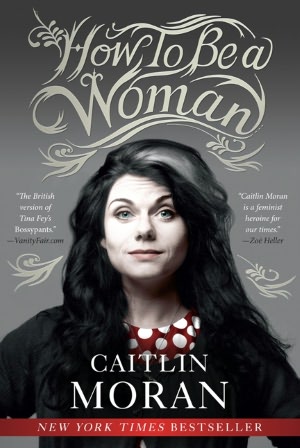 How to Be a Woman by Caitlin Moran I just finished this, inhaling it in, like, 15 minutes. Moran, a British music journalist and columnist, is 1,000 times cooler and more hilarious and foul-mouthed than your most cool, hilarious and foul-mouthed friend. She gets drunk with Lady Gaga. She talks openly about her abortion. She goes to strip clubs and pronounces them bullshit. She rails against things like bikini waxing and butt-floss thongs without giving a damn about whether she sounds like a "strident feminist." She IS a strident feminist. We should all be strident feminists. In Moran's world, there's a lot less guilt and uncomfortable underwear, and a lot more rock n' roll and cake and tickle fights with your kids.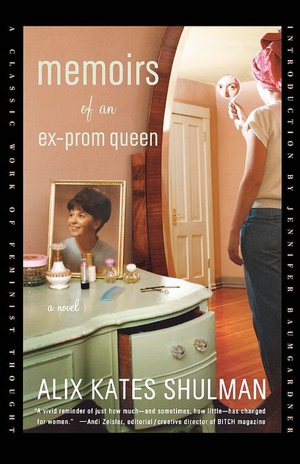 Memoirs of an Ex-Prom Queen by Alix Kates Shulman Shulman is a feminist activist who achieved fame/notoriety for publishing her 1969 "A Marriage Agreement," a contract formally dividing up housework between her and her husband. She's been mocked for it ever since by people who think it's petty or humorless, but given that we still don't have a fair divide of housework in this country, she clearly had a major point. Memoirs of an Ex-Prom Queen is a novel, a very 1970s novel raging with anger at possessive husbands and no-good lovers and rapey high school football players, full of lines like "Even in a separate bed I would be trapped under his ego." It's a bit hard going, but makes me feel really good that a lot's changed in the past 40 years when it comes to male-female relationships. I interviewed Shulman about housework and gender for my book (Homeward Bound: The New Cult of Domesticity, out this coming spring), and she's a real trip (to borrow piece of 1970s vocab). "We didn't want to abolish housework!" she cried. "We just wanted men to do their fair share."
O, The Oprah Magazine I'm not always a big fan of Oprah. I mean, she's an amazing woman and entrepreneur, but her fondness for pseudoscience and "The Secret"-type power of positive thought crap is idiotic. Still, I love her magazine. I've never been able to read aspirational glossies like Vogue or Vanity Fair without feeling terrible about myself (why don't I have a "great friend" who is a Duchess? Why don't I have "the new wool pant" in my wardrobe? Why aren't I at a book party in Brooklyn fending off advances from Salman Rushdie?). Oprah understands that everyone's life is messed up in some way or another, and her magazine's all about working with what you've got and having a good attitude. My punkrock 14-year-old self would kill me for admitting this, but I eat it up. My mom just sent me her back issues of O along with a bunch of Halloween candy, and I've been enjoying both in the bathtub. So sue me.
The Passage by Justin Cronin Ever since I picked up Steven King's Carrie as a morbid and bookish 9-year-old, I've loved literary horror novels. Apocalyptic or post-apocalyptic? Even better. As an adult, I've branched out into mystery (Tana French, Kate Atkinson and Gillian Flynn are some of my recent favorites), largely because a lot of horror novels are real shite in the prose style department. So I was super-psyched to start The Passage, as Cronin comes from the non-genre side of things and really knows how to write. I'm 23 percent of the way through the story (yes, I usually read on my Kindle), a tale a government-sponsored trial of a modern-day vampire virus that goes out of control (naturally). There's a rogue FBI agent with a broken heart. There's a little girl with superpowers. There's a nun from Sierra Leone who talks to God. It's so good I'm not getting any work done.
The American Plague by Molly Caldwell Crosby Speaking of apocalyptic horror stories involving dreadful viruses: this is about a real one. The yellow fever epidemic in Memphis in 1878 sickened 20,000, killed 5,000, and turned the city into a giant morgue. Everyone with means (ie, wealthy whites) fled to the highlands, while the poor and black stayed behind. In a lot of ways, the city never recovered. As a Southerner (I grew up in Durham and Chapel Hill, North Carolina), I've always been fascinated with the ways the region is haunted by its past.
On that cheerful note, thanks for asking me to participate! I hope everyone's eating leftover turkey and lying on the couch with a good book (or, let's be honest, a backlog of "Here Comes Honey Boo Boo" episodes).