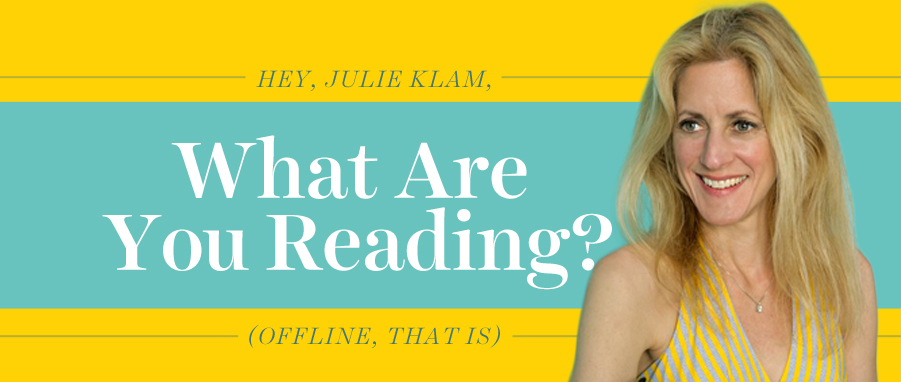 Julie Klam grew up in Bedford, NY. She has written for such publications as "O, The Oprah Magazine," "Rolling Stone,"  "Harper's Bazaar," "Cookie," "Allure," "Glamour," "Family Circle," and "The New York Times Magazine," "Redbook." A graduate of NYU's Tisch School of the Arts, Julie worked from 1999 – 2002 as writer for VH1's Pop-Up Video, where she earned an Emmy nomination for Special Class Writing.  She was also a Senior Writer on VH1's Name That Video. She is the author of Please Excuse My Daughter, the New York Times Bestseller You Had Me At Woof: How Dogs Taught Me The Secrets of Happiness, Love At First Bark: Dogs and the People They Saved, and Friendkeeping: The Field Guide to the People You Love, Hate, and Can't Live Without (all Riverhead Books). Along with Ann Leary and Laura Zigman, she is a co-host of the weekly NPR radio show Hash Hags. She lives in Manhattan.
* * *
In college I used to read Vanity Fair's Night Table reading column. Notable people, actors and actresses would tell readers the book that was on their nightstand. It was never Jackie Collins or Us Magazine, it was Proust or Wittgenstein or David Foster Wallace, something that told the world, I am smart, dammit!  It drove me a wee bit crazy to think that anyone would believe that, that a Vanity Fair reader would run out and buy the complete works of James Salter because they thought Julia Roberts had done that. I always vowed if anyone ever asked me for a recommendation I'd be honest and tell them what I'm really reading: War and Peace in the original Russian. And the Old Testament from original tablets.  KIDDING, I'm kidding of course! I used to read somewhat complicated "smart" books, but once I had a kid and got a smart phone I found my attention span dwindling to not-quite-fruit-fly. In the past year, because of a confluence of very difficult personal situations, I've only been able to read the most accessible of books.  I've come to see my situation as something of a "reader's block"  and the challenge for me has been to find books that hold my interest when I'd really rather be playing online solitaire. These books were all published in the last year and all books that broke through my mental state.
The Good House by Ann Leary – I was a huge fan of Ann Leary's first two books, a memoir called An Innocent, A Broad and a novel, Outtakes from a Marriage. There is something magical about the way Ann Leary writes, it's smart, relatable and oh so entertaining. Even though this book was kind of a fat hardcover, I took it every where I went until I finished it. When I was done, I mourned it and told ever person who hadn't read it how lucky they were to have it to look forward to.
Laura Lamont's Life in Pictures by Emma Straub – I read Emma Straubs story collections — though I should say I devoured them. To say I eagerly anticipated her novel is an understatement. I'd read about the topic, a 1930s/40s movie star and her life in old Hollywood.  When I got the book, I read the first page and thought I should stop. It was too good and I loved it so much I was wanted to save it. But I didn't. I carried it around with me everywhere and got so pulled into the world that I began to look for Laura Lamont movies on TCM. It's a wonderful book, the kind that makes you forget you are reading and feel instead like you are hearing a story from a fascinating person.
The Middlesteins by Jami Attenberg – I have read and loved all of Jami Attenberg's novels, and before The Middlesteins came out the buzz was that it was amazing. For that reason alone I was pretty sure I wasn't going to like it.  I picked it up at the post office on my way to get my daughter from school and read it as I walked, the story of a woman and a family and Jews and food, and by the second paragraph I was not only hooked, I was looking around for people to tell about it. It really isn't like anything I'd ever read before, I laughed and nodded my head in recognition and I wept.  I've given this book to a lot of friends and everyone, no matter what their background agrees that it's going to be a favorite of all time.