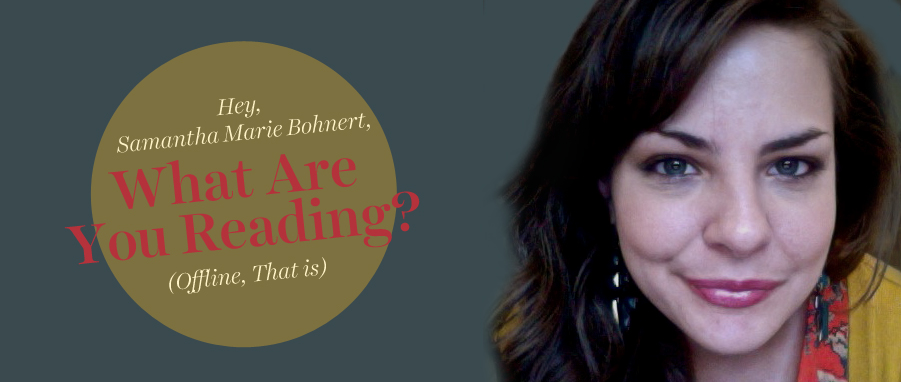 Samantha Marie Bohnert enjoys the snow, words, adventures, writing letters and finding something new to dream of daily. She has been a writer since she could put pen (or pencil) to paper, and is inspired by many things, from the way the light hits her toes in the morning to the sounds of her surroundings. She lives in her hometown of Cincinnati, Ohio; a city that has kept her heart safe and follows her wherever she goes. Her love for coveting what is beautiful—and sharing that beauty with those around her—brings her happiness, always. The other day I was at my father's pool, and I handed him a library book­–the standard, crinkly plastic-covered kind that smells like books from decades past­­–and after barely looking at it, he asked, "Do you still read?" Now, to any innocent bystander, a question like that would imply that not only did I used to read, but that I had also forsaken it long ago. But I knew the true meaning behind his inquiry: he wanted to know if I read with the same ferocity, dedication, and irreverence to my surroundings as I did in my youth. I was never a social child, and one would assume I lacked a nose because it was buried amongst pages during all waking hours. This was the girl my father knew well; a girl who preferred the company of fabricated strangers, and who could tune out any cacophonous setting. But that behavior is now a faint memory, as is my ability to regain that type of unwavering focus.
No one would suspect a lack of reading in my life; I have two bookshelves packed to the brim in my home, and I recently checked out five books from the library. But I have a terrible secret . . . that aforementioned book my dad shied away from? I haven't even cracked it open. And one of those bookshelves is reserved exclusively for authors whose words I have never read. Please accept my apology Dostoevsky, Eugenides, Rushdie, but not Proust; I am saving the first volume of In Search of Lost Time (Remembrance of Things Past) for my own, personal column: "What Are you NOT Reading, Probably Ever." From what I've gathered the work is every avid reader's kryptonite, mocking him or her from the bedside table. I'll get there when I get there, okay? I have even dedicated a special section of my blog to that ominous bookshelf called "Shelf Life." And before you ask, no I haven't finished the book mentioned there, either. But I digress. I am not some hoarder collecting books uncontrollably. My intentions are pure and true, but if I am being completely honest with myself, I buy books and wear out my library card because that is what happens when you love something so deeply. You immerse yourself in it, let it envelope you, let it overtake whole areas of your life (and apartment.)
My entire life has been spent coveting words, yet there was a significant and somewhat detrimental lull in the time I spent with my paged companions. I was growing up, exploring other interests (gasp!), and somehow I strayed. The only books I read in my undergraduate program were literature of a certain century, and graduate school was an amalgamation of rhetoricians classic and contemporary. Needless to say, I was pigeonholed. Maybe it was self-inflicted, but that is not important, nor relevant at this time. What is important is that I pushed away that past love of mine for something else, but as my life settles and my mind regains clarity, all I crave is a book that allows for the rest of the world to just…fall away. So I buy and I borrow; I read reviews of any published work that have just one thing about them that grabs my attention. It is a slow process, and I have to tell myself that I am not that wide-eyed girl with a wealth of time and freedom. And I certainly cannot just read anything anymore. I want to read words that move me, that cause a reaction. I once vowed that any book I started I would always finish, no matter how abhorrent. However, there have been certain stories I have read recently that are difficult to stomach. I proceed with trepidation and hope always, always that I will feel what I used to. I think I am getting there through the briefest of moments that occur in between wading through less than desirable writing. So fret not, fellow bibliophiles, and please explore those moments from the past year. Also, thank your lucky stars that I am not writing as my 12-year-old self; at that age I read more than 100 books in a year. Nowadays, I am lucky to get through 100 pages, so my list is much shorter. Enjoy.
L'Etranger (The Stranger) — Albert Camus
The Fifty Year Sword — Mark Z. Danielewski
Hannah Coulter — Wendell Berry
A Heartbreaking Work of Staggering Genius — Dave Eggers
A Map of Tulsa — Benjamin Lytal
Currently, I am reading Whole, a non-fiction work by Dr. T. Colin Campbell, and in a bold, yet silly move, I am simultaneously working my way through The Beautiful and Damned by F. Scott Fitzgerald. Check in with me in a few months, where you will probably witness me crying amidst a circle of unread books. Like a champ.